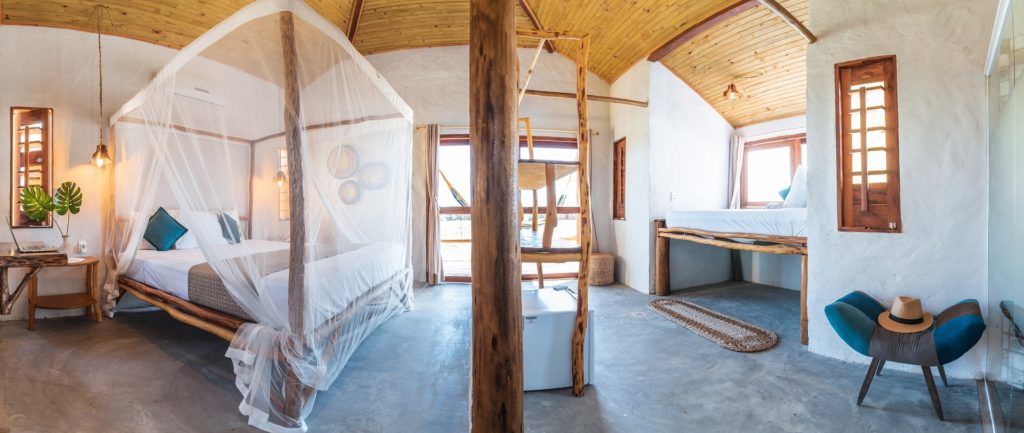 Our chalets are located directly on the beach and are therefore on the premises of the kite surfing station. All 11 chalets are located a maximum of 200 meters from the water.
The elegant Chales stand on stilts are lovingly and modernly furnished and even offer enough space for up to six people if required. 9 of the 11 chalets were only built in 2020.
Of course, each chalet has its own bathroom, king size bed and an outside shower as well as its own terrace. Air conditioning, a warm shower and a refrigerator should of course not be missing for comfort.
We are happy to serve our lavish and varied, healthy breakfast on our own terrace or in buffet form on our newly built breakfast deck.
In the evening we will also be happy to cook for you.
Macapa now also offers some nice restaurants which can all be reached on foot in a few minutes. Macapá is a small, peaceful fishing village where we have spent our winters for over 10 years. We know the helpful and friendly people of Macapa and the surrounding area well. If you are looking for the best spot and wind conditions for kitesurfing from morning to night and you long for a safe place to relax and unwind in South America, Macapá is the place for you. Smaller parties take place here every now and then, but overall it is a really relaxed and quiet fishing village. Those who want to party can go to Parnaiba, about 30 km away. There are many opportunities to party extensively on the weekend.